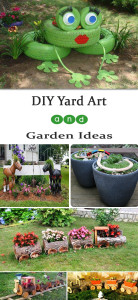 Spring is near and it's time to think about sprucing up the yard. A beautiful yard can take time, something most of us don't have much of these days. Pulling weeds and keeping plants fed is a full time job. Don't sweat, we found some creative ways to add color and joy to a garden, porch, or yard with these DIY Yard Art and Garden Ideas!
There are so many fun ways to jazz up a yard that don't take much time of effort. Using re-purposed furniture can be a darling way to make a flower planter, or what about using vintage toys in the garden? The ideas are endless, all it takes is a little imagination!
Enjoy these inspiring DIY Yard Art and Garden Ideas that you can easily re-create at your home.
Words can not describe how much fun this frog tire planter is! Made from old tires and a little paint this afternoon project is almost free. This is sure to brighten your day right when you step outside!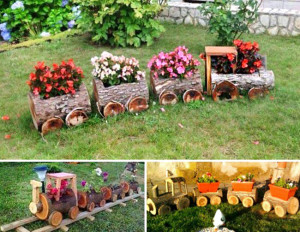 Have fun with logs for some DIY yard art with Log Train Planters! Make your own planters from real wood logs or buy ready made log planters for a super cute garden.
How adorable would a toy train garden be for little ones! This would be a fun spring project with kids!
How darling are these horse planters?! They are sure to be a topic of conversation at your next barbecue. The kids will love to help with this project.